Transit of Mercury
Community Access Event
Monday, 9th May 2016 (11:30 - 20:00)
Venue: The J.A. Jones Hoober Observatory
THIS IS A BOOKING ONLY EVENT.  Ring Les Marsden 01709 584217  to book.
Join us to view a TRANSIT OF MERCURY
"A transit of Mercury across the Sun takes place when the planet Mercury comes between the Sun and the Earth, and Mercury is seen as a small black dot moving across the face of the Sun. Transits of Mercury with respect to Earth are much more frequent than transits of Venus, but this is the 1st one visible from the UK since 2006.
The observatory will be open from approx. 11:30 until 20:00.  The transit itself will begin at approx. 12:12 BST and end at 19:42 BST, just after sunset (around 19:37 BST).
During the day members of the MSAS will be at the JA Jones Hoober Observatory to assist in viewing the transit using special solar telescopes which make viewing the sun safe. You will also be able to see solar flares or sun spots through these telescopes.
For those who can't make it you can see the whole thing via NASA
There is no charge for access to the observatory during the day but donations to the society are always welcome. Please note there is no catering or toilet facilities available at the observatory.
The Society must stress that members of the public should not attempt to observe the Sun themselves unless they have the correct equipment. To ignore this warning could result in permanent eye damage."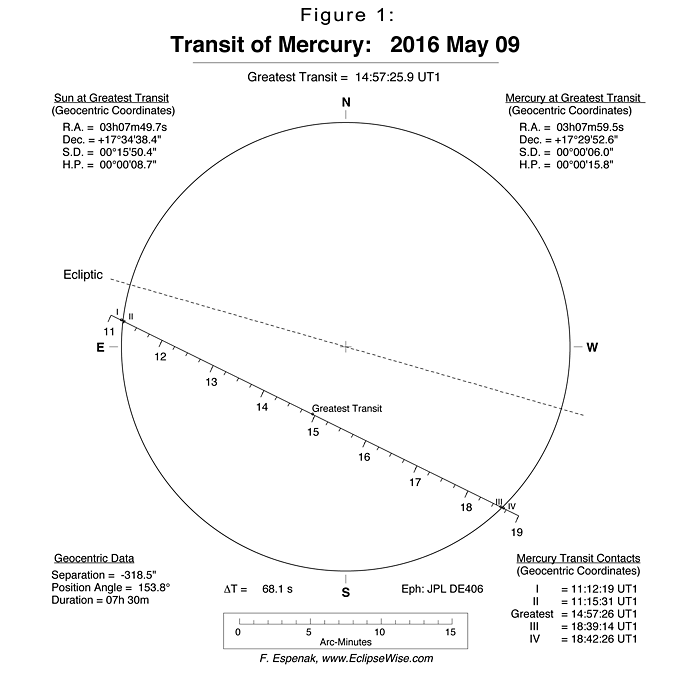 Figure 1 above shows the path of Mercury across the Sun's disk and the scale gives the Universal Time of Mercury's position at any instant during the transit. The contact times are listed along with the equatorial coordinates of the Sun and Mercury at greatest transit. Since the contact times are geocentric they are only correct for an observer stationed at Earth's center. The contact times for any given location may differ from the geocentric times by up to a minute. This is due to the effect of parallax since Mercury's 10 arc-second diameter disk may be shifted up to nearly 13 arc-seconds from its geocentric coordinates depending on the observer's exact geographic position.
Speaker: Andrew Kirton-Vaughan
Learn more about Andrew Kirton-Vaughan