Lunar Viewing
Members only evening.
Monday, 15th February 2016 (19:00 - 21:00)
Venue: The J.A. Jones Hoober Observatory
This is a members only event.
Reserve your place. Book on the Clubroom Notice board.
This event is subject to the weather. If the weather is bad we will not be there. Check with Andrew Kirton-Vaughan.
Speaker: Andrew Kirton-Vaughan
Andrew studied a Masters in Materials & Engineering Science at St John's College, Oxford University and a MSc in Materials and Manufacturing Management at Sheffield Hallam University. 
He Worked for Tata Steel (formerly British Steel / Corus) for 13 years including 5yrs at Technical Manager of the Aldwarke Steelplant in Rotherham. He is now Technical Director of an Iron and a Steel Foundry in Derbyshire.
He got his first telescope last February, a 5" Newtonian which I only had for 6 weeks before upgrading to a 10" and now uses a 12" Dobsonian to visually observe deep sky objects as well as several smaller telescopes for astrophotography.
His main interest is space flight & astrophotography, particularly globular clusters.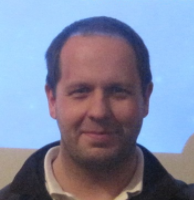 Learn more about Andrew Kirton-Vaughan