Financial Review
Financial Performance
Financial performance in the year to March 31st 2015 has been broadly consistent with the trustee's forecasts and expectations; a surplus of income over expenditure of £3,595 was achieved for the year compared to £3,112 in the year to March 31st 2014.
The year ended with a general (and sole) fund balance of £23,790 (compared £20,196 for the same date last year). Detailed accounts can be found here.
Income
Income receipts for the year totalled £7,963 – an apparent decrease of £627 (7.3%); however the year to Mach 31st 2014 included prize money from the ICAEW Charities Online Financial Reporting Awards (COFRA) of £2,250 and the year to March 31st 2015 included a back-dated Gift Aid claim settlement income of £1,751. Removing these atypical transactions from the analysis would result in a year-on-year drop in income of £127 (2%).
The society's income is generally healthy and remains consistent with previous performance, Figure 1 illustrates the comparison of income in the current and previous years.
Administrative & General has fallen by a little over £400 (8.5%) – once the previous year COFRA prize mentioned above is excluded. This is largely due to the reduced interest rate offered on the Virgin Charity account which earned interest of £287 this year compared with £350 for its first full year of operation. This income still compares favourably to the interest rate received on the NatWest Savings account.
The Community Access Programme at the J.A. Jones Hoober Observatory has generated income of £1,061, very nearly 30% more than in the previous year (£818). This can be attributed to a hugely successful programme which has proved incredibly popular with the public. A greater number of events have been provided as noted elsewhere in this report.
Public Outreach is another major source of income however in the year ended March 31st 2015 this stream suffered a year-on-year decrease of 18% from £825 to £676. The number of events offered, in collaboration with our partner organisations, has changed little attendance at these events has been more varied. In some cases this is simply due to poor weather conditions deterring the public from attending events which do not require pre-booking.
Fundraising Income for the year to March 31st 2015 was £1,049 compared to £1,482 to the same date last year – a drop of £433 (29%). The accounts for last year included a £300 income and corresponding expenditure for a planned member's visit to Bletchley Park which had to be cancelled. Excluding this the fall year-on-year is a more modest £133 (9%) which is largely due to variable book sales at outreach events – due in part to lack of volunteers to man the sales desk and, of course, to the varied attendance just noted.
Commissions from Amazon and EasyFundraising continue to accrue steadily, totalling £132 for the year. We would like to take this opportunity to remind our members and supporters how easy it is to support our work when shopping on-line at Amazon or any of the hundreds of retailers – from high street names to specialist shops – available on EasyFundraising; and the best bit is your shopping doesn't cost you a penny more! Simply visit our website, http://msas.org.uk, to get started.
Donations income remained virtually unchanged, incoming donations totalled £18 compared to £19 last year. This income stream is negligible; donations are often accrued as overpayment of fees or not taking change when purchasing a book or CD, consequently many donations are recorded under other income streams. The trustees are reviewing the categories used to classify income and expenditure and will consider if the Donations heading should become a subcategory of Fundraising Income in future years.
Finally, our primary source of income – Subscriptions and Fees shows a headline increase of £1,998 (71.5%) to £4,792 for the year. This is largely due to the submission and settlement of a Gift Aid claim to HMRC for the period April 1st 2010 to March 31st 2013. This resulted in income of £1,751 which includes interest payments.
Excluding Gift Aid income Subscriptions and Fees income is still higher by some £247 (8.9%) – this is especially significant since subscription rates for both periods remained consistent and can only be attributed directly to increased membership.
It should be noted that the Gift Aid claim referred to above was the first made by the society using the new HMRC online submission system. Now that the use of this system has been established further claims for the periods April 1st 2013 to March 31st 2014 and April 1st 2014 to March 31st 2015 will be progressed; once these have been completed Gift Aid claim processing for future years will become part of the society's normal year end accounting and reporting activities.
As we will be shown in the review of expenditure the goal of covering core operating costs from subscription income has been met for the year to March 31st 2015.
Expenditure
Expenditure for the year totalled £4,368 – a drop of a little over 20% on the previous year (£5,477) and this is illustrated in the following graph. Again the category-by-category analysis which follows will demonstrate that when one-off expenditure and expenditure of monies received for a specific purpose in a previous year are excluded expenditure is well managed and controlled.
Figure 2 below shows expenditure for the current year compared with the previous year.
Administrative & General was identical for the year to March 31st 2015 and the year to March 31st 2014 at £134. £35 is the registration fee levied by the Information Commissioner's Office which is an annual expenditure. Other Administrative & General costs were the cost of cutting key sets for the observatory (£49) and purchasing solar viewers for partial solar eclipse events (£50).
Meeting Room expenditure is changed little from year-to-year at £913 compared to £990; in both years rent paid to Swinton Bottom Club Ltd. accounted for £900. The slight decrease year-on-year relates to differing sundry purchase requirements, for example in the year to March 31st 2014 a vacuum cleaner was purchased for the meeting room.
Observatory Operating Expenditure has fallen by £235 from £1,583 as of March 31st 2014 to £1,348 at the date of this report. Regular expenditure in this area includes land rent, Rotherham MBC non-domestic rates, telephone and electricity supply. It should be noted that the premium for the society's main insurance policy (£804) is reported as an observatory expense as historically this was the case; the current policy replaced an earlier building and contents only policy for the observatory and the attribution has been retained for comparison purposes. The current policy covers a wider range of charitable activities and employers and public liability; however the premium is not broken down by our provider.
Land rent was £90 per annum, the same as the previous year, whilst electricity costs rose from £264 to £315 per annum (an increase in excess of 19%).
The long-term undertaking entered into with our insurance broker limited the annual increase to just 0.25% to the £804 (£802 for the previous year) mentioned above. Telephone service remained constant at £60 per year. Non-domestic rates had an annual increase of 1.3% to £78 (£77), this figure includes the 80% mandatory charitable relief.
The total for the year to March 31st 2014 also included £290 for replacement batteries, charger, and vacuum cleaner for the observatory which did not need to be repeated in the period of this report.
Subscription expenditure for the year has increased from £121 to £146 – this is largely a result of the success of the society in attracting and retaining members. Our subscriptions to Swinton Bottom Club Ltd. increased from £78 to £90 as a direct result of our growth, similarly subscription rates to the Federation of Astronomical Societies (FAS) increased as we moved from being classed as a medium to a large society (£28 rather than £23 per annum, both figures reflect the application of the FAS prompt payment discount). The FAS also stopped discounting its PLI premium which added a small amount (£8).
The expenditure categories above form the core operating costs of the society, if one-off expenses are excluded the non-discretionary spend is around £2,442 which is comfortably met by subscription and fees income of £3,041 (once backdated Gift Aid income is excluded). In the year to March 31st 2015 core operating costs equated to 80% of subscription income.
Guest Speaker expenses have risen by 9.5% from £471 to £516 in the year to March 31st 2015 this will be due to some extent to increasing rail ticket and fuel prices. The expenditure is however still a modest component of overall expenditure and our guest speakers add great value and diversity to our meeting programme.
Observatory Development expenditure for the year to March 31st 2015 was £1,091, up £655 on the previous year (£436). This increased spend has been largely fuelled by increased use of the observatory and our desire as a society to offer first class facilities to our members and the wider public.
The society benefits greatly from members and supporters who work on our development projects on a voluntary basis which further help reduce costs.
Fundraising Expenditure year-on-year fell by 87% from £1,742 in the year to March 31st 2014 to £220 at the date of this report. Two items included in last year's accounts however distort the accounts should be excluded in order to give a fair evaluation of how Fundraising Expenditure compares year-on-year. Firstly, payment of the £1,011 balance for the Malham Tarn Field Studies Centre weekend (monies collected and reported in the year to March 31st 2013) and secondly a £300 expenditure to refund members who had paid deposits for a planned visit to Bletchley Park which sadly had to be cancelled. This is netted off against matching income recorded under Fundraising Income.
When these items are removed Fundraising Expenditure was £431 for the year to March 31st 2014, compared to £220 at the date of this report. The expenditure is mainly the purchase of stock for the society book sales.
Stock
As of March 31st 2015 the society held a stock of books and CDs with a value of £126.
Gifts and Support in Kind
In assessing the finances and assets of the society it must be noted that many members and trustees give a great deal of support in kind. Many purchases are made and the payment never claimed back; for example printing and postage costs, stall fees at events, and web hosting have all been paid for by members but the cost not claimed despite such a claim being perfectly legitimate.
Members also give generously of their time; without the many hours given to preparing and delivering talks, running community access and outreach events, and managing the society its growth and success could not be achieved.
We undertook an analysis of the time which trustees and members give to the society to support our Community Access and Outreach programmes, preparing and delivering presentations, and on trustee and officer duties. The total exceeds 4,500 hours which equates to £29,250 at National Minimum Wage rates of October 2014 of £6.50 per hour. The value of this time to the Society is, of course, much greater.
The trustees wish to place on record their recognition of and gratitude for all these contributions.
Funds Materially in Deficit
As at March 31st 2015 the Society had no funds in material deficit.
Major Risks
In our Annual Report and Statement of Accounts for the year ended March 31st 2014 we identified a single major risk relating to our accommodation at Swinton Bottom Club. The club had been reporting year-on-year losses which cannot be sustained indefinitely. We are gravely concerned that the latest set of accounts available from Swinton Bottom Club show a loss; it must be recognized that Swinton Bottom Club Ltd. are operating is a very difficult market and accommodation must therefore continue to be considered a major risk to the society.
Financial Management and Reserves Policies
The Society has a Financial Management Policy which meets the requirements of the Charities Act 2011, the Charity Commission guidelines "Internal Financial Controls for Charities" and "Accounting and Reporting by Charities: Statement of Recommended Practice (Revised 2005)".
The General Fund is unrestricted and is used for the day-to-day operation of the Society.
The New Horizons restricted fund was closed on March 31st 2012 as we reported in our Annual Report and Statement of Accounts of that date; the society is currently operating with no restricted funds. The New Horizons restricted fund is included in this report only to allow comparison with previous years.
The Society operates with an unrestricted reserve at a level set by the trustees; currently this is £4,500 which equated to approximately 18 months running costs. The reserve is held to allow the Society to offset fluctuations in income receipts and to provide for contingencies.
Reserves are held without any exposure to the stock market.
At March 31st 2015 the General Fund had a balance £23,790 (compared to £20,196 at the same date last year).
Whilst the current unrestricted fund level is above the reserve we feel it is prudent in the current economic climate; maintaining a substantial reserve will better allow the Society to meet the funding challenges which the wider economic situation may impose. We also note that securing external funding is becoming increasingly difficult as sponsors and grant making bodies are forced to address their own funding issues. We are also mindful that the long-term future of Swinton Bottom Club Ltd. is difficult to guarantee and that we must be prepared to seek alternative accommodation, possibly at short notice, should our current venue cease to be available.
We have also attained our long standing goal of member subscriptions meeting core operating costs, something we have been working towards for a number of years. No increase in subscription rates is to take place in the year commencing April 1st 2015 and the finance sub-committee are recommending that subscription rates are held for the year commencing April 1st 2016.
Approved and adopted by a meeting of the Executive Committee on May 6th 2015 and signed on their behalf,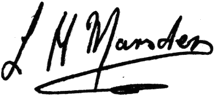 Leslie H. Marsden FRAS
Chairman