Mexborough & Swinton Astronomical Society
Achievements and Performance - Part 1
Details

Parent Category: Annual Reports
New Horizons
The Society has made steady progress towards its New Horizons vision in the year to March 31st 2010; it was decided that as the funding to purchase the RC Optical Systems (RCOS) 16-inch telescope (approximately £30,000) was proving difficult to secure an interim solution would be implemented to maximise the benefits of the equipment already purchased. The trustees decided to purchase a Celestron C14 XLT Fastar 14-inch Schmidt-Cassegrain telescope as a temporary substitute for the RCOS instrument; the intention being to sell this on once funding was secured for the larger instrument. The Celestron C14 was chosen as it offered the large aperture required to meet the New Horizons specification and because the instruments hold their value on the second-user market.
We were able to secure a very competitive price of £3,500 on a Celestron C14 via AstroSource and the instrument was installed at the J.A.Jones Hoober Observatory in October 19th 2009.
Video of C14 being installed.
Feedback from our members and the public using the new telescope has been overwhelmingly positive and it has been suggested that this should be retained permanently rather than continuing to seek funding for the RCOS. In view of these comments and developments in the range and quality of instruments now available the trustees plan a full review of the New Horizons equipment specification in the coming year; this will determine if the current Celestron instrument or an alternative will deliver the New Horizons benefits at lower cost.
Charities Online Accounts Awards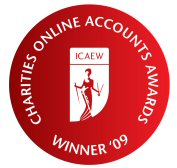 The Society took part in the Charities Aid Foundation's Charities Online Accounts Awards 2009. Our Annual Report and Statement of Accounts for the year ended March 31st 2008 was entered in the competition in the hope of improving on the 3rd place achieved the previous year.
At the awards event held on June 25th 2009 we were delighted to walk away with first prize in the category for charities with Income below £100,000. The £1,500 prize money provided a welcome boost to our New Horizons fundraising efforts. Presenting the award chairman of the judging panel, Graham Ward CBE MA FCA, said that the society "really stood out for their innovative use of the web. In particular, the judges were impressed by their use of freely available web-technologies to improve accessibility on the site, as well as by their use of hyperlinks. Mexborough are also to be congratulated on their technical score of 97%"
Graham Ward's full speech can be accessed online.
Full details of the 2009 competition winners are also available online.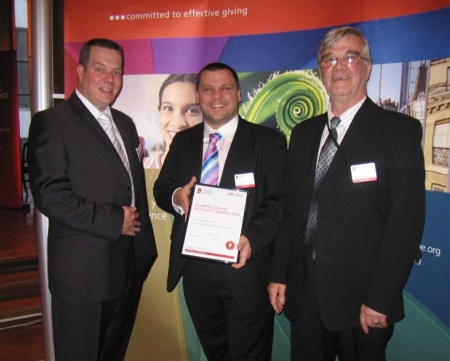 The Society has submitted its Annual Report and Statement of Accounts for the year ended March 31st 2009 for to the renamed Charities Online Financial Report Awards 2010.